About Dominica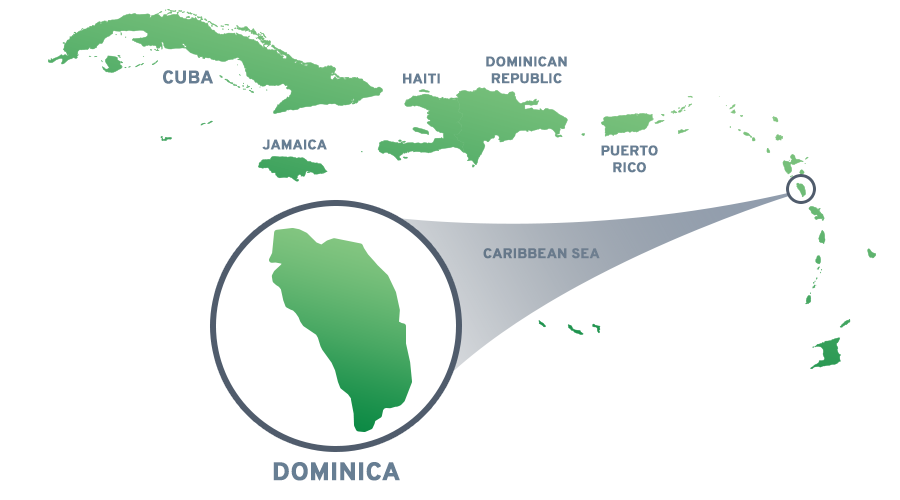 Location
Latitude 15˚ 20' N, Longitude 61˚ 22' W, between the French Overseas Departments of Guadeloupe and Martinique.
Official Name
Commonwealth of Dominica.
Languages
Dominica is a former a British colony and as such, English is the main and official language. Creole, a French dialect consisting of African words and expressions is also widely spoken, and is considered the second language of Dominica. Spanish is spoken to a much lower extent due to the small Hispanic population living on the island.
Capital City
Roseau
Surface Area
751 km2 (289.5 sq mi)
Time Zone
GMT-4
Population
72,293 according to 2011 census.
Climate
Two main seasons- wet and dry season. Humid tropical marine, minimal seasonal variation between wet and dry season; high precipitation during wet season.
Highest Peak
Morne Diablotin – 1730 m (4,747 ft)
Head of State
The head of state is the President.
Head of Government
The head of government is the Prime Minister.
Independence
Dominica became independent on November 3rd, 1978.
Business
Fiscal incentives may be granted to qualifying businesses upon consideration of its socio-economic benefit, impact on employment, financing available to the business, the nature and extent of the proposed business investment, whether it is in compliance with the Social Security and Income Tax Act.
Economic Sectors
Dominica's main economic sectors are tourism, hospitality, agriculture, fishing and manufacturing.
OECS and CARICOM
Dominica is a member of the Organization of Eastern Caribbean States and Caribbean Community (Caricom) within which the Caribbean Single Market and Economy (CSME) operates. As an OECS and CARICOM member state Dominica citizens enjoy visa-free travel to countries which belong to these groupings. Work permits are generally not required to work in OECS member countries.
Unesco World Heritage Sites
Dominica's natural beauty and preserved historical sites have resulted in the inscription of the Morne Trois Pitons National Park, the Morne Diablotin National Park, Soufriere-Scott's Head Marine Reserve and Fort Shirley as UNESCO World Heritage Sites.
Currency and Central Bank
The currency used in Dominica is the Eastern Caribbean dollar, represented as XCD. The Eastern Caribbean dollar has been pegged to the United States dollar (USD) at USD 1 : XCD 2.7169 since 1976. Banking and monetary policies are supervised by the Eastern Caribbean Central Bank (ECCB). The ECCB is the Monetary Authority for the OECS.
Central and Local Government
Central government in Dominica is defined by the constitution and consists of the legislature, the executive and the judiciary. Local government operates through the Village Council system whereby administrative bodies are elected by local communities to undertake certain duties.
Administrative Divisions
Dominica is divided into 10 administrative divisions. While in many countries these are known as states, counties, cantons, duchies and prefectures, including provinces which are often subdivided into municipalities, in Dominica they are called parishes. These are Saint Andrew, Saint David, Saint George, Saint John, Saint Joseph, Saint Peter, Saint Paul, Saint Mark and Saint Luke.